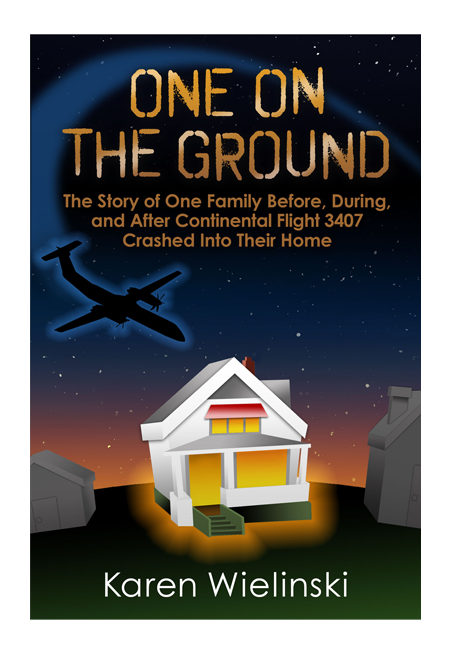 A Story of Survival, Enduranceand Continued Love
One on the Ground is Karen Wielinski's compelling memoir, based on her experiences resulting from the crash of Flight 3407 into her Clarence home. When her husband Doug died along with 50 passengers and crew he become identified as the "One on the Ground."

February 12, 2009 was an ordinary evening at home for the Wielinski family of Clarence Center, New York. Karen said good night to her husband Doug as he left their family room. Minutes later her world and her home came tumbling down around her. This compelling memoir is the story of life before, during, and after an unthinkable tragedy.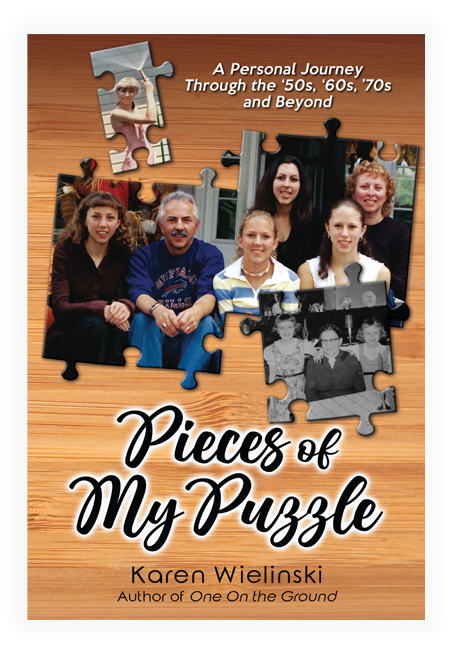 A Personal Journey Through the '50s, '60s, '70s, and Beyond
"Pieces of My Puzzle candidly reveals funny, poignant and intimate life memories of five generations of the author's family, and she reminds us of the significance of such memories from her perspective of loss and regret following the crash of Continental Flight 3407 into her family's home."
~ Christina Abt, author of Crown Hill and Beauty and Grace
Thanks To Those Who Attend Talks and Signings
It has been such an honor to travel around Western NY and bring the story of One on the Ground to so many wonderful people, and I look forward to sharing Pieces of My Puzzle. Here are booked events:
Upcoming Events/Appearances
Erie Co Fair
Historical Building
5600 McKinley Pkwy
Hamburg, NY
Audubon Branch, Amherst Public Library
350 John James Audubon Pkwy
Buffalo, NY
(Call 716-689-4922 to register)
September 23, 2023 – 12:30pm
Eden Public Library
2901 E. Church St.
Eden, NY
(Call 716-992-4028 to register)
Topic: "One on the Ground"
Clarence Public Library
3 Town Place
Clarence, NY
(Call 716-741-2650 to register)
Orchard Park Public Library
4570 S. Buffalo Rd.
Orchard Park, NY
(Call 716-662-9851 to register)
Hamburg Public Library
102 Buffalo St.
Hamburg, NY
(Call 716-649-4415 to register)
November 16, 2023 – 6:30pm
Aurora Town Public Library
550 Main Street
East Aurora, NY
(Call 716-652-4440 to register)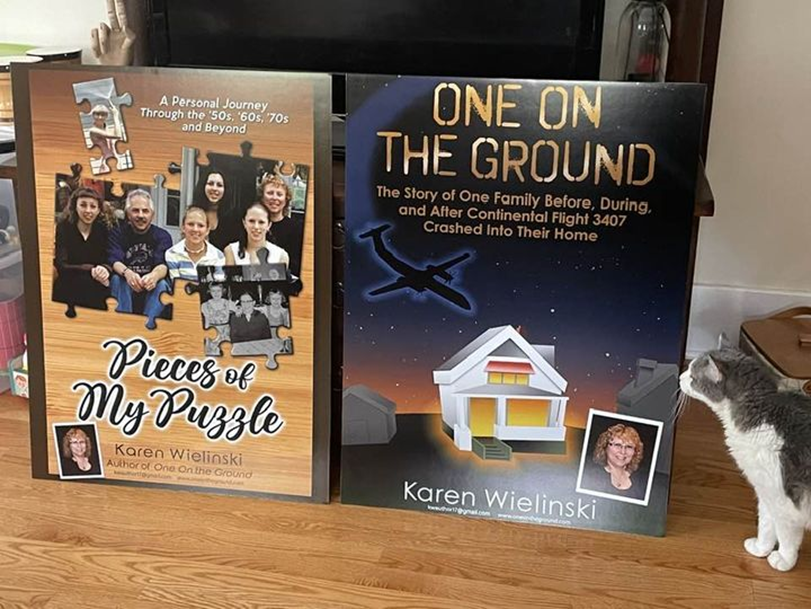 Would you like to have Karen speak at your event or organization?
I would love to meet more of you, so if you have an organization that would like to learn more about One on the Ground or Pieces of My Puzzle, I hope to hear from you.
Please feel free to email me at [email protected]
---
My youngest grandson, Gavin, recommends reading both One on the Ground and Pieces of My Puzzle. Grandsons Caden and Rowan were fascinated with the family trees in Pieces of My Puzzle, which are actually drawings done my Doug. I love that he is a contributor to this new book, and I love how the boys are holding hands, as they trace their ancestors.
Copies are available at the Buffalo Public Libraries, the Bookworm in East Aurora, NY, and by clicking on the Amazon, Barnes and Noble and Book Baby icons at the bottom of this site.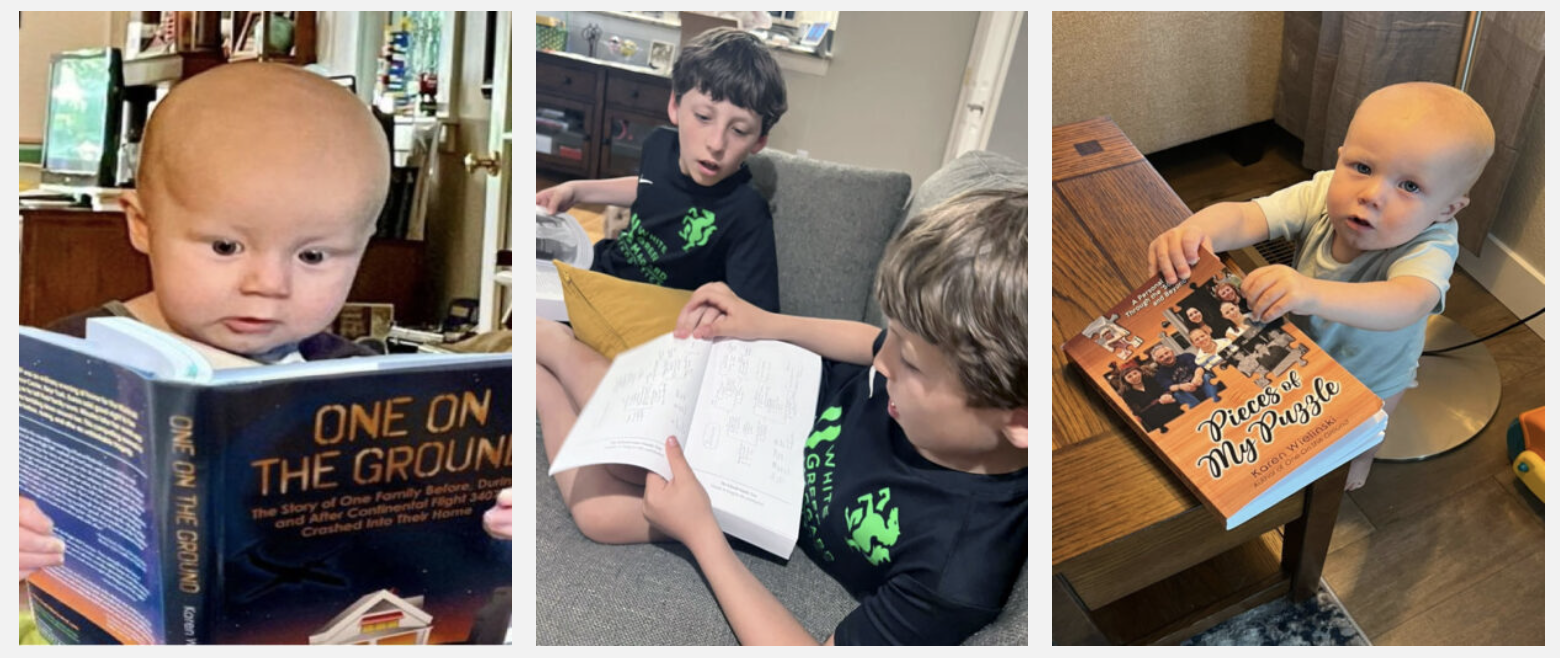 The Douglas C. Wielinski Memorial Scholarship Fund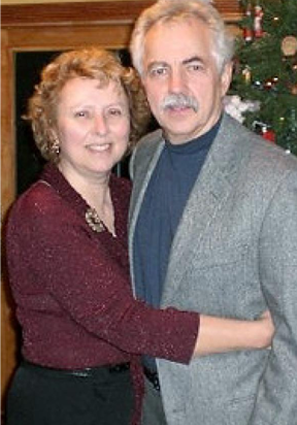 Doug loved to delve into history. Collecting allowed him to preserve the past, and he always loved the opportunity to share what he learned with others. He especially enjoyed bringing history to life for high school students by sharing his Viet Nam War experiences with them.
After the crash my daughter Lori said that since her dad had always loved history, it seemed only fitting that he was now a part of history.
The Douglas C. Wielinski Memorial Scholarship Fund was established in 2009 to provide assistance to students who have a genuine love of history. It is my hope that profits from the sale of One On The Ground and Pieces of My Puzzle will enable more students to benefit from this fund.
If you are so inclined to help in this effort, donations can also be sent to:
The Douglas C. Wielinski Memorial Scholarship Fund
P.O. Box 241
East Aurora, NY 14052
Thank you for considering to honor Doug in this way.
~ Karen Wielinski
We are happy to announce the 2023 Douglas C. Wielinski Scholarship recipients.
From Clarence High School:
Luke Carey and Brooke Podgorski, who will be attending UB and Canisius in the fall.
Jaelyn West, who will be attending Hilbert college next fall.
Thanks to everyone who supports our scholarship by buying One on the Ground and Pieces of My Puzzle, and honoring Doug in this way.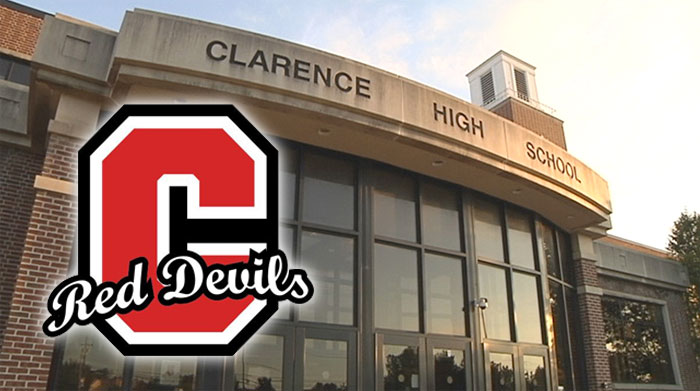 Long Street Memorial Site
Plaques were recently added to the Long Street Memorial. One gives details on the tragic crash on February 12, 2009, and explains the legislation that was passed in 2010 as part of the Air Safety Bill. Another plaque describes the symbolism that is included at the site,
We are pleased that these plaques are now part of the memorial, as it will ensure that visitors and future generations can appreciate and understand the history of the crash of Flight 3407.
A rededication ceremony was held on Saturday, August 12, 2023.
Family members and friends who lost loved ones gathered along with Congressmen Brian Higgins and Nicholas Langworthy to acknowledge the new signage and the importance of remembering the events of February 12, 2009 and the symbolism included at the memorial.
Those attending also included former Clarence Judge, Mike Powers, who was President of the Flight 3407 Foundation, and guided the Board members in implementing the memorial on Long Street and at the Clarence Library.
Even though it has been almost 15 years, it is still hard not to get emotional at a 3407 event. I was doing fine until we lined up to place flowers on the memorial stone.
It was good reconnecting with so many of the 3407 Family members. They are such a special group of people. Extra thanks also go the Kausner family, who helped organize the rededication ceremony and hosted a lunch at their home.
Click on an image below to expand…

8/11/23 
Thank you to friends, who stopped by to visit me at the historical building at the Erie County Fair on August 11, 2023. It was good sharing the "One on the Ground" and "Pieces of My Puzzle" stories with them and others who checked my display.
It was especially good to see my former Clarence School co-worker, Rae Ann Nugent, again.
I am happy to report that we boosted our scholarship fund a bit more. I appreciate those who bought copies of the books.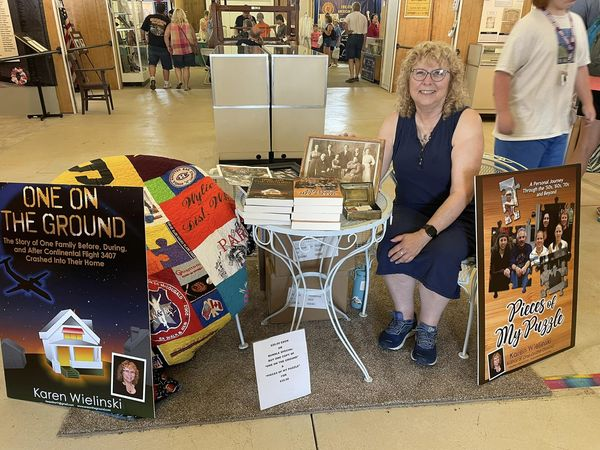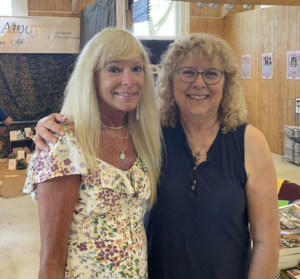 ---
Book Launch for "Pieces of My Puzzle"
6/24/23 
A second book launch? Unbelievable, but true. An Open House was held on June 24, 2023 for Pieces of My Puzzle. It was wonderful to see family and friends who have tagged along with me on this journey. They all contributed to making this dream of mine into a reality. Thank you to everyone for your inspiration and encouragement.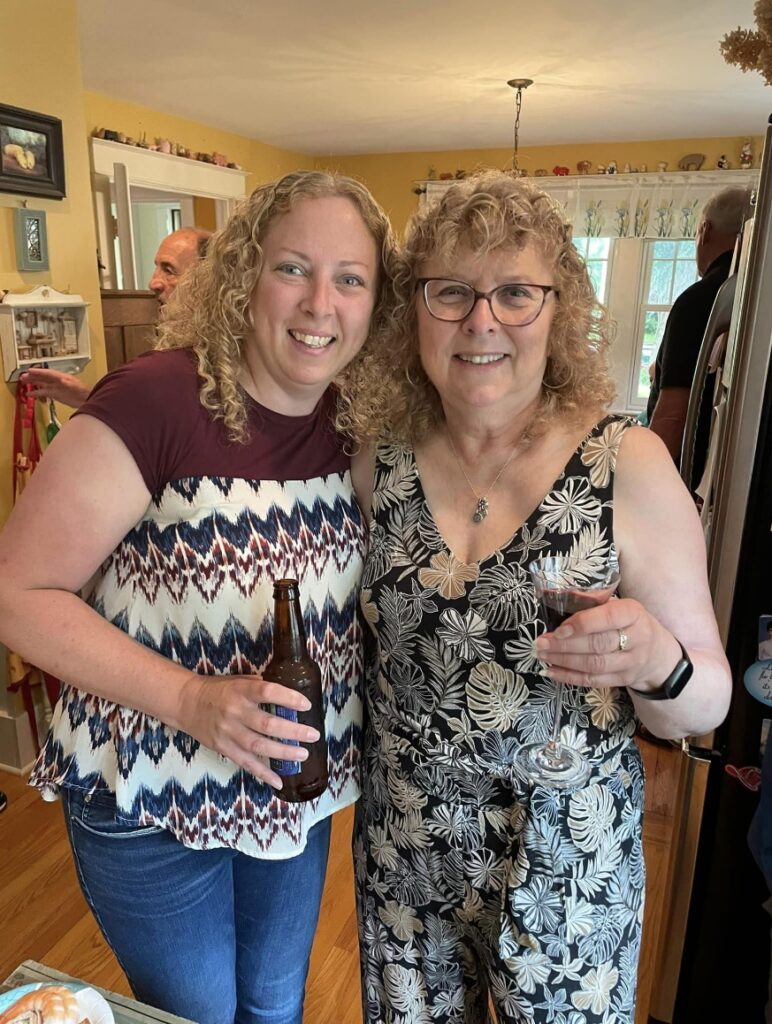 With my daughter, Kim.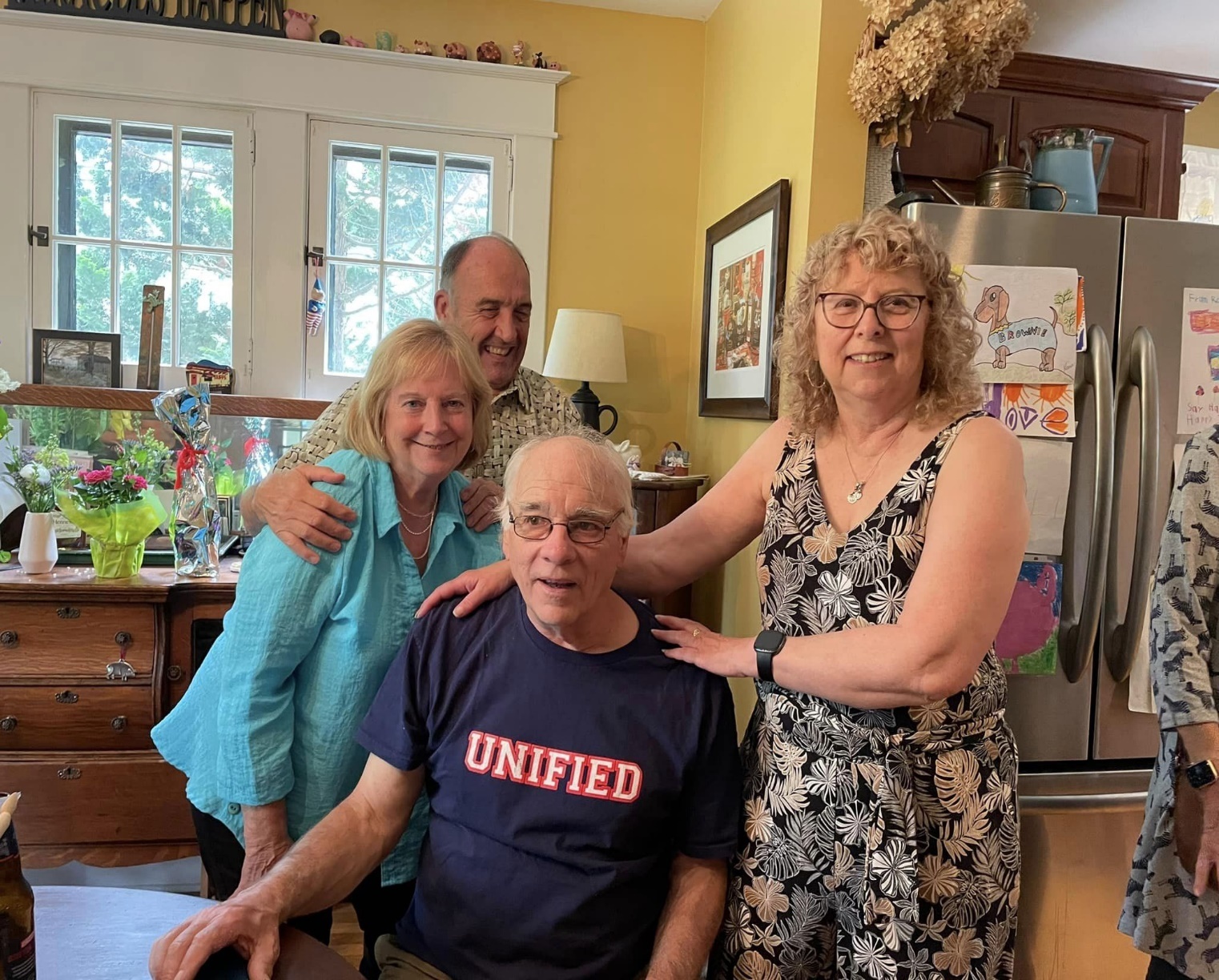 Good friends Zoe and Rod May with my Creative Writing moderator, Rick Ohler.
---
National Disaster Medical System Summit
8/23/22 
It is hard to believe that it has almost been a year since I spoke at the National Disaster Medical System Summit in Indianapolis. About 100 people attended my talk. Debra Reach, a volunteer coroner, who met with us days after the crash of Flight 3407, invited me to this event.
Unbelievably, one lady came up to me after the talk and told me that she was the person who had recovered our cat Spots in the debris. At first, she thought it was an infant. She picked Spots up and held her in her arms. Gave me chills, but also comfort. I was honored to have an opportunity to speak to this group, who mostly share their time and talents on a volunteer basis.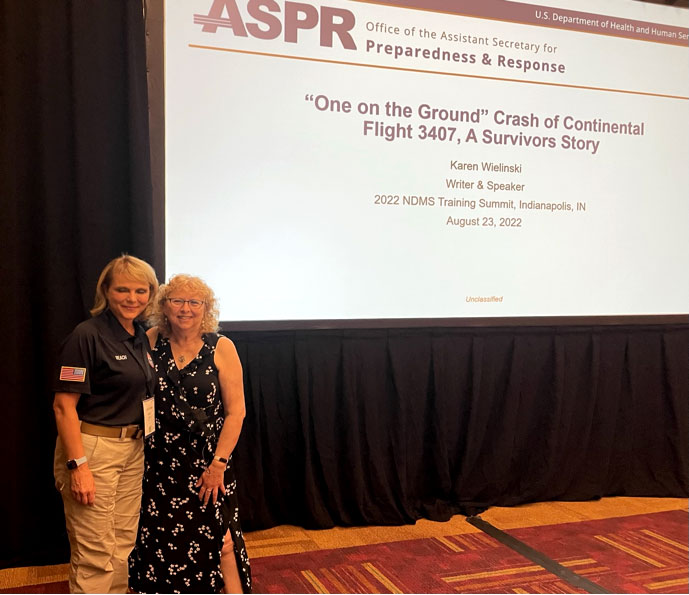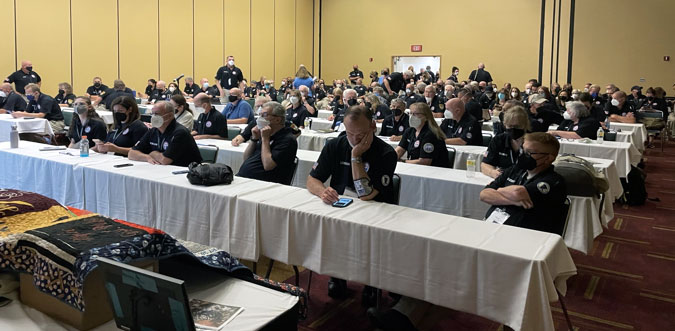 ---
A Day In Ellicottville
8/14/19
I spoke to the Ellicottville Historical Society on August 14th. Thanks to Ellen Sirianne for the invitation, and thanks too for dinner. I enjoyed meeting so many supportive people.
It's been awhile since I visited Ellicottville, so I stayed overnight at the Jefferson Inn B&B, and explored the town the next day. I was happy to support small business and the economy of Ellicottville, as I took advantage of the shopping, eating and drinking opportunities of this great little town.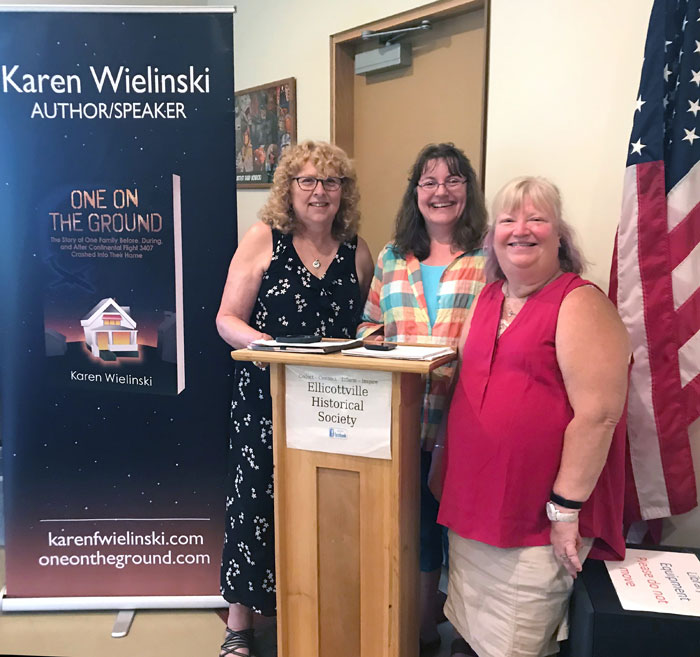 ---
Erie County Fair
8/10/19
It was an enjoyable day at the Erie County Fair on August 10th. It was encouraging to have so many people stop by to talk with me about "One on the Ground" at the Historical Building. Thanks to everyone who bought books and supported the scholarship fund.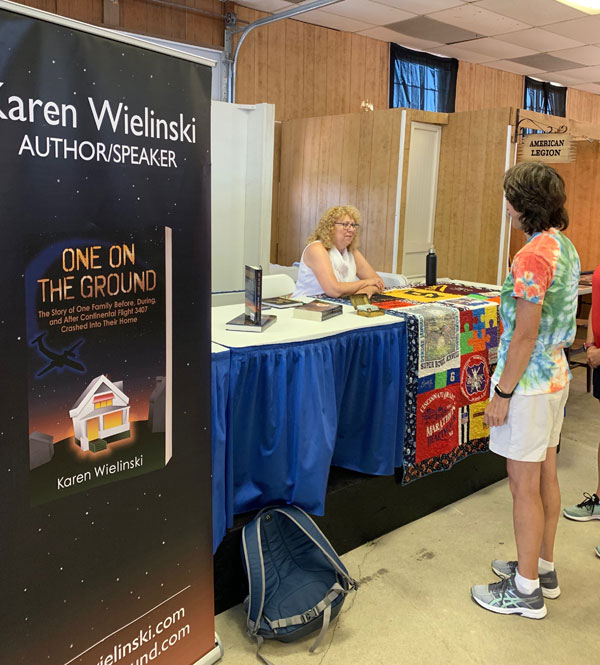 ---
So Many Books, So Little Time
7/11/19
On July 11th, I met a great group of ladies, the "So many books, so little time" book club in the City of Tonawanda, NY. Their faces lit up when then saw me, and that is still something I have a hard time comprehending. Hey, it's just me! Their praise of me and love for "One on the Ground" was humbling and much appreciated, as was their very generous donation to the scholarship fund. Part of the perks derived from giving these talks is hearing the attendees tell their own stories, sharing similarities with them and hearing how my book has touched them.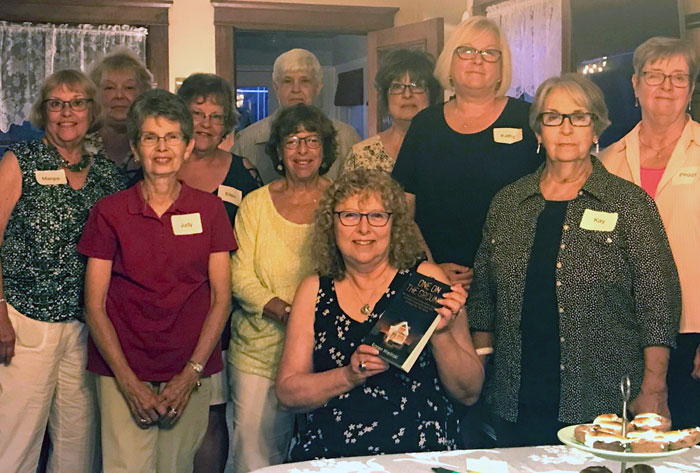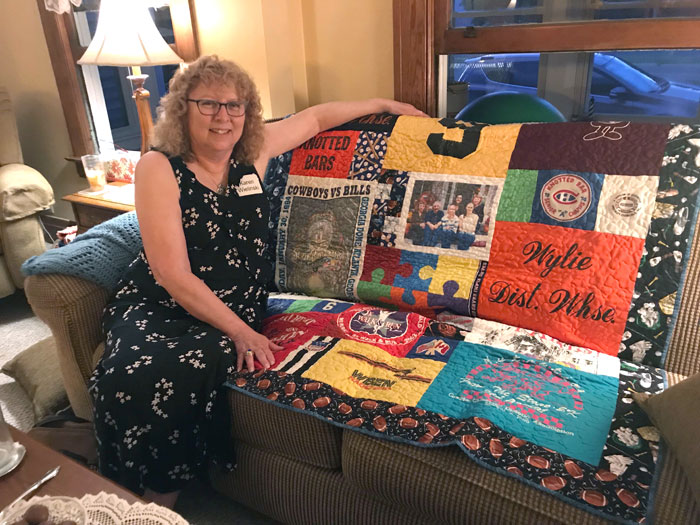 ---
Sharing With Special People on May 20th
5/30/19
Talk about challenging—I had two chances to share "One on the Ground" with some special people on May 20th.
My morning talk introduced me to the Bibliotherapy Groups at ECMC in Buffalo. They all had read the book, so I enjoyed their feedback and I could update them on additions to several stories that have occurred since publication. Sitting together around a big table, conversations flowed easily. Surprisingly, one man even shared that he used to be our paperboy on Hagen Street in Buffalo back in the 60s and 70s!
They said I inspired them, but I can honestly can say THEY inspired me. Thanks to Catherine Greer and Lisa Keenan for making this meeting possible.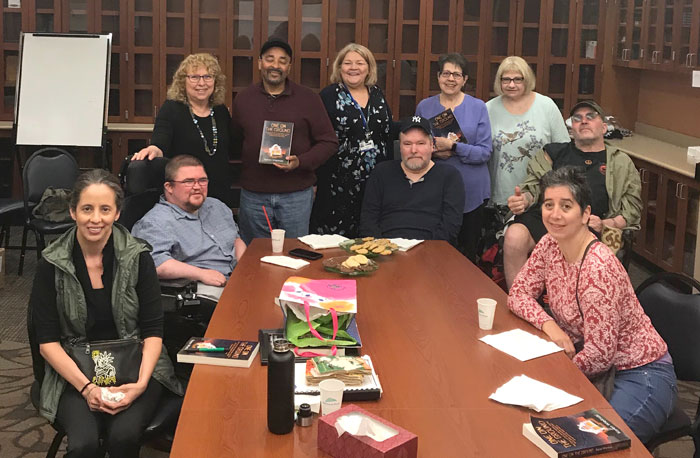 Sinclairville
5/30/19
I then traveled to the tiny village of Sinclairville near Jamestown NY to speak in the evening at their library. This library is the heart of the village, and it was a pleasure to share my story with almost 20 people, many whom had read the book. Special thanks to librarian Beth Hadley for inviting me.
May was a great month that included nine book events and the sale of over 75 copies of One on the Ground.
Thanks to all for welcoming me so warmly.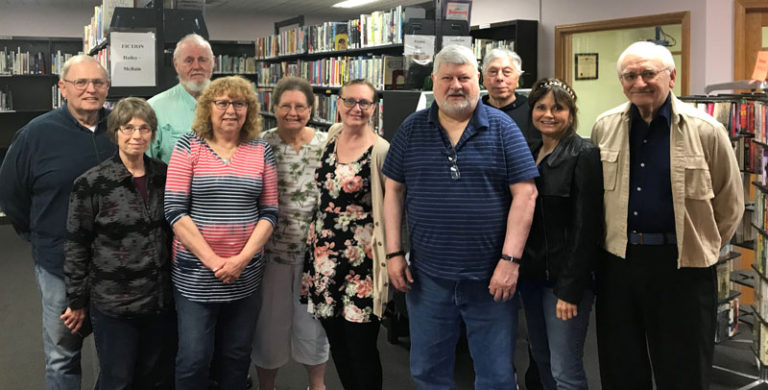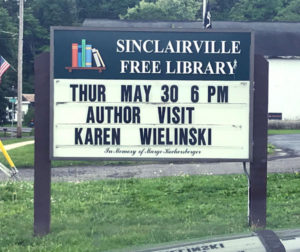 ---
Meeting Local Authors
5/18/19 
I was one of the participants at the Newfane, NY Public Library's local author day on May 18th. It's always great to meet other authors. My table "neighbor," George Rollie Adams, took this wonderful picture of the "One on the Ground" quilt. George's novel, "South of Little Rock," is set in a small town in southern Arkansas in 1957, where its residents are dealing with social change. His past work affiliations include an active role in the Buffalo Historical Society, and at the Strong National Museum of Play in Rochester.
I also met Jamie Scalise, who with Bob Dicesare, wrote "He's Out!" the story of prison escapee Richard Matt, her estranged father until she reconnected with him a few years before his escape from the Clinton Correctional Facility in Dannemora, NY. Jamie is a lovely lady, and her story is fascinating.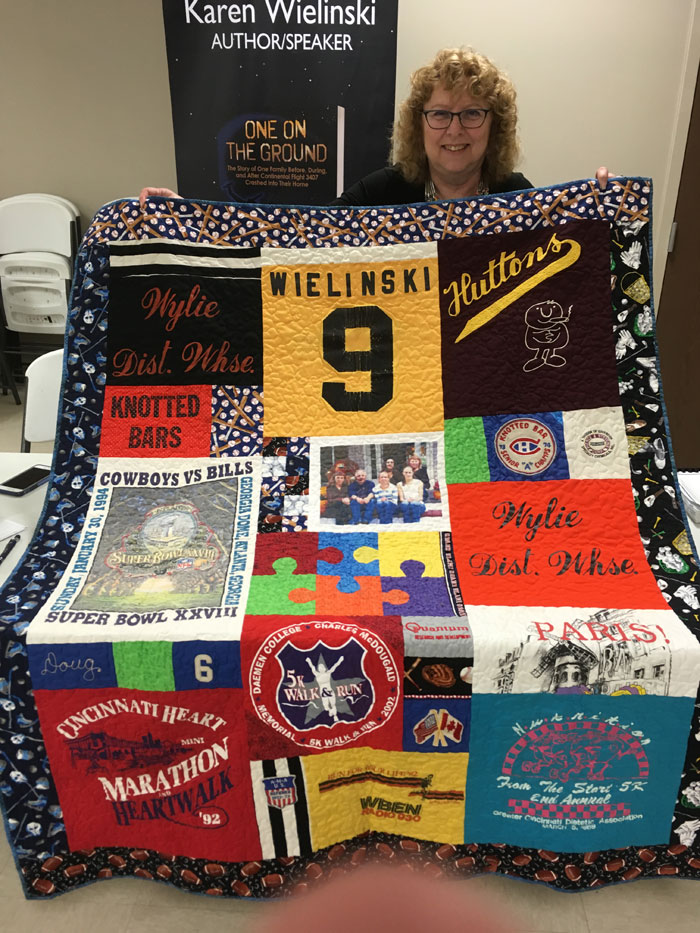 ---
 AM Buffalo Interview
1/10/19
As the anniversary approaches, I am fortunate to have had opportunities to share the "One on the Ground" story with several media outlets. I appreciate their interest in this historic event that affected so many people. Our local television affiliates plan special programs on February 12th, and I recently appeared on WKBW's "AM Buffalo" program on January 10th.
(CLICK TO VIEW KAREN'S INTERVIEW)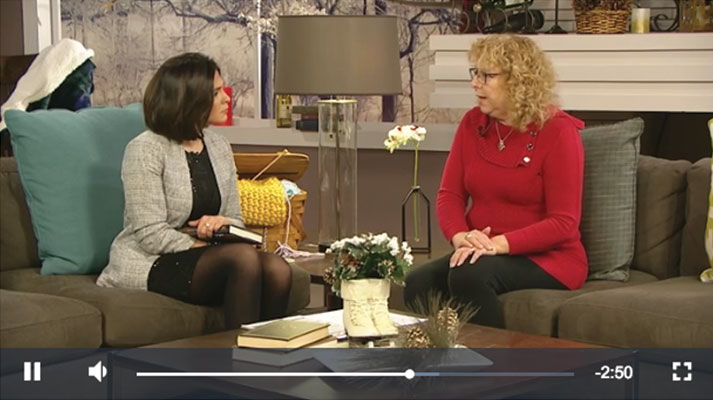 Burchfield Penney Art Center
11/1/17
It was such an honor to have an opportunity to speak at the beautiful Burchfield Penney Art Center on November 1st. I was moved to tears by the introduction I received from Wendy King. I so appreciated her heartfelt review of One on the Ground. Despite a rainy night, turnout was good, and since many had already read the book, there were great follow-up questions. It definitely was a memorable night.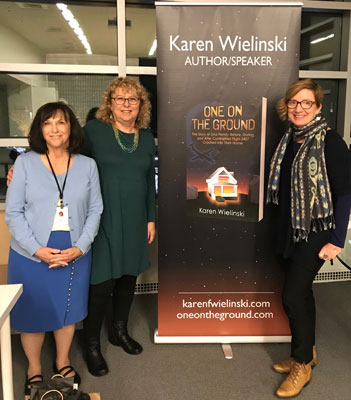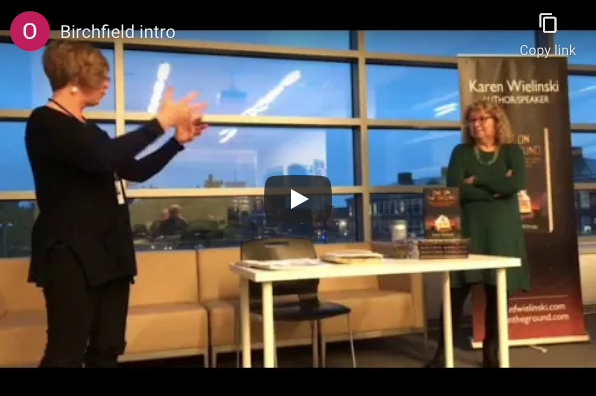 Writers Launch Event
2/25/17
A private "writers" launch for One on the Ground took place on February 25th 2017. What better way to celebrate publication of the book than a gathering of writers — amateur and professional — along with my Librastream publishers, Sallie and John Randolph, and designer/creative team Leslie and Jeff Taylor of Buffalo Creative Group.
Many of the attendees were either my current or past classmates from Rick Ohler's East Aurora creative writing classes. They provided support and encouragement as the pieces of this book were read week-after-week over the last few years.
Ed Drantch and Aaron Mason from WKBW also participated in the celebration. Ed helped announce the release of One on the Ground, with his wonderful segment that aired February 10th.
Buffalo News reporter Joe Popiolkowski, who had been supportive during the Long Street Memorial dedication and the trial, also joined us.
My daughters, Kim and Jess, were also on-hand to meet these creative people in my life, as was my cousin Jan Frappier, who has become one of my staunch writing critics.
Being surrounded by those who have guided and encouraged me during this book journey was both humbling and gratifying. It was a memorable afternoon.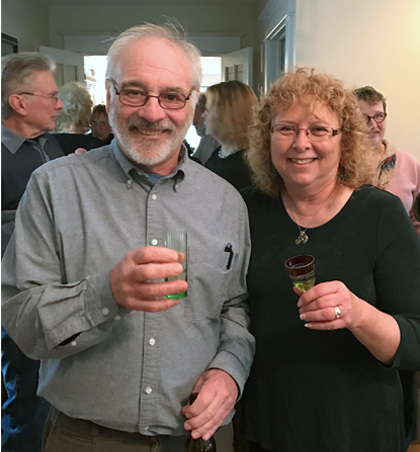 Rick Ohler, author, columnist & East Aurora creative writing class instructor shares a toast with Karen.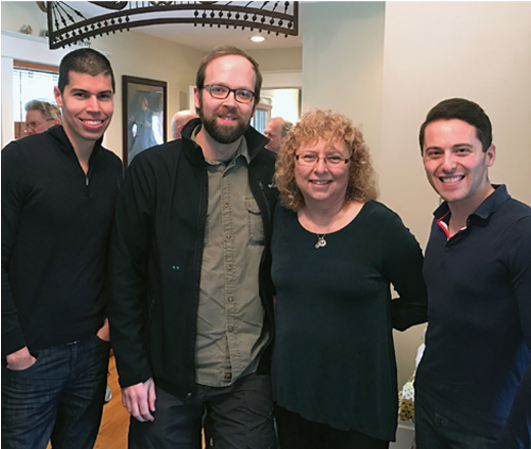 Pictured left to right: Aaron Mason, WKBW; Joe Popiolkowski, Buffalo News; Karen Wielinski and Ed Drantch, WKBW.
Profits benefit the Douglas C. Wielinski Memorial Scholarship Fund
Copyright ©2017-2023 by Karen Wielinski. One On The Ground. All Rights Reserved.       ~Website by Buffalo Creative Group.